I had this perfectly good spot of lawn doing nothing at all.
I kept thinking about what I could be growing there.
So I put together another raised bed.
4 x 8 with 2 mid bar supports
Then I added weed fabric and cut PVC pipe into 10" pieces.
I placed the PVC in 8 places.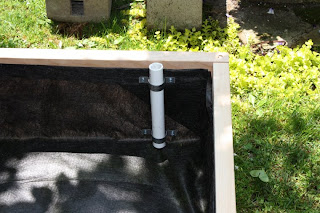 I screwed the pipe in place using "c" clamps.
after it is filled with soil the pipes just reach above the dirt.
After filling it about 2/3, I lay a drip hose and then cover it with the remaining soil.
I use a smaller "c" clamp to hold the end of the hose in place.
The new bed ready for seeds!
In the background you can see the flexible PVC pipe bent into hoops and slid into the PVC sleeves I screwed into the side of the beds. These can be covered with plastic in early spring to create cold frames/hot houses or covered in fabric in August to prevent plants from sun scorch. They also hold the bean trellises and some of the twigs I use for bean supports.